28 March 2022
Where to go in Val di Fassa for those who do not ski but want to be together with those who ski?
Reading time 9:52 Minutes
Who said that a non-skier in Val di Fassa has to do winter activities alone while his companions ski in the Dolomites?..
How often during a skiing week in the Val di Fassa does it happen that someone in a family, couple or group of friends does not ski or would like to get away from skiing for a few days?
It happens quite often! Among the guests of our apartments, we have seen many mothers with small children waiting for their fathers to return from the slopes, parents who take a break from skiing because their children never stop conquering the peaks from dawn to dusk, or a person who does not ski accompanies his or her better half on a winter holiday in the mountains of Italian Alps..
These are our experiences as hosts of a residence in Pozza di Fassa that have inspired us to dedicate this article to those who do not ski but want to experience a day on the snow the Val di Fassa near to their skiing loved ones in order to share the joyful emotions with them.
The mountains of Val di Fassa in winter are beautiful even without skiing, and if you discover them close to your skiing loved ones, the Dolomites becomes even more beautiful!
You can enjoy your winter week in the Dolomites without skiing and go on wonderful winter walks or snowshoeing or have fun sledging near the various ski areas in Val di Fassa. In this case you can spend a fantastic day next to the ski slopes where your family or companions ski while you discover the wonders of winter in the Alps and the beauty of Val di Fassa wearing its best white dress.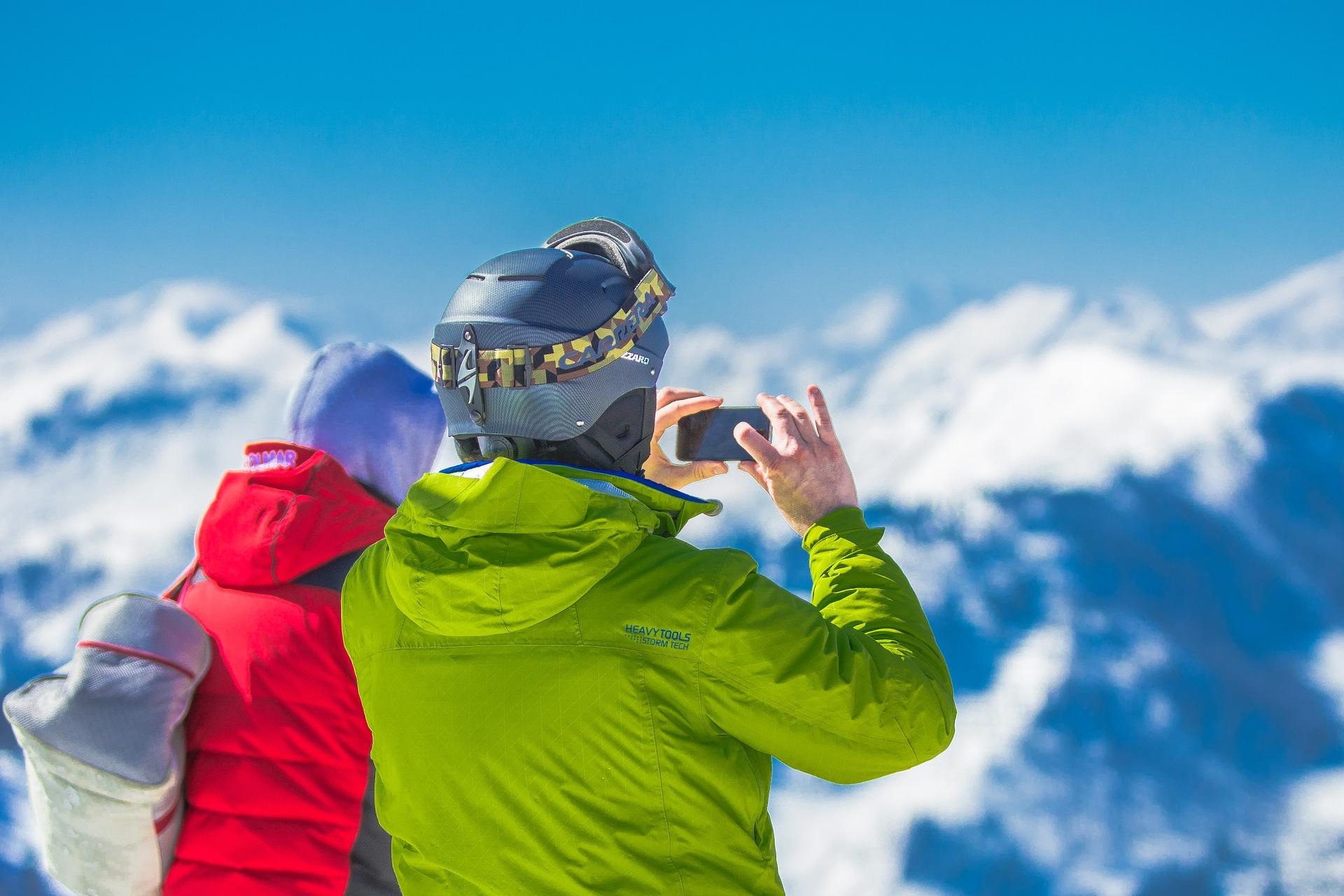 So where to go in Val di Fassa with and without skis all together?
Here are the 3 places in Val di Fassa that offer a perfect synergy between excellent ski slopes for those who ski and scenic winter walks for those who explore the mountains on foot. You'll all be well (and close) here!
1. Ski area Catinaccio/Ciampedìe for skiers + Gardeccia/Ciampedìe for non-skiers
Most of our guests choose this solution because it takes them to one of the most beautiful places in Val di Fassa, which is absolutely accessible in winter even without skis, and allows to have a perfect day between those who ski in the Catinaccio/Ciampedìe ski area and those who discover the same winter landscapes without skis so they can admire the mountains together.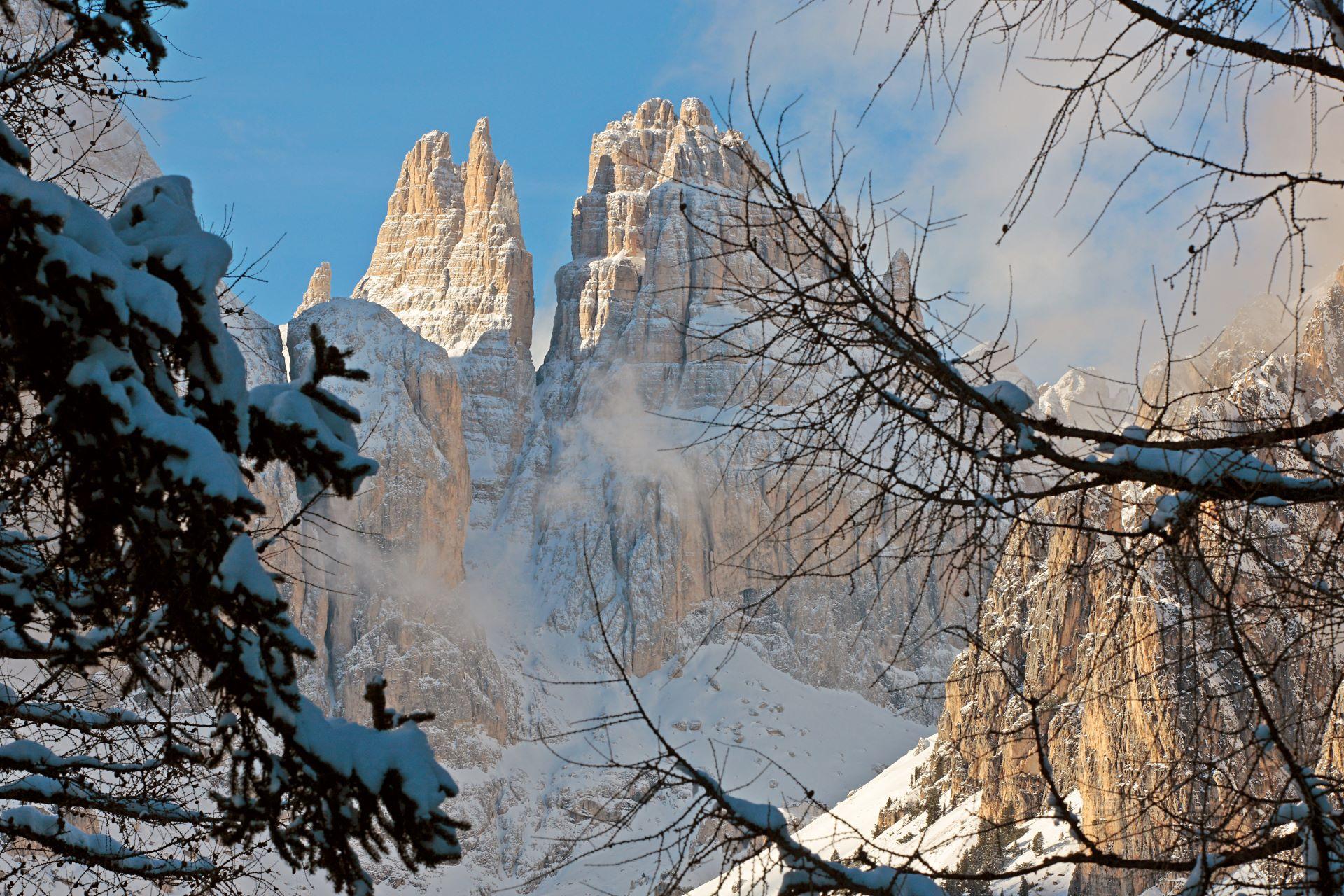 At 450 metres from our residence at the Vajolet chairlift, buy a two-way ticket for the Ciampedìe area (the 3 chairlifts: Vajolet 1, Vajolet 2 and Pian Pecei - Ciampedìe) and follow your companions up to Pian Pecei (the first two chairlifts).
Follow the signs and walk through the forest along the charming "Trail of Legends" (Sentiero delle Leggende), which is practically level and leads to wonderful Gardeccia in about an hour.

Breathing in the pure air and feeling an integral part of the silent mountain landscape, on this trail you can learn about the 6 interesting stories and ancient legends of Val di Fassa; the hike is therefore also recommended with children. In fresh snow, it is great fun to do this trail with snowshoes (in fact, you will see blue signs indicating this). The first section of the trail skirts the ski slope, so on your return on the same trail you will probably be lucky enough to say goodbye to your dear skiers.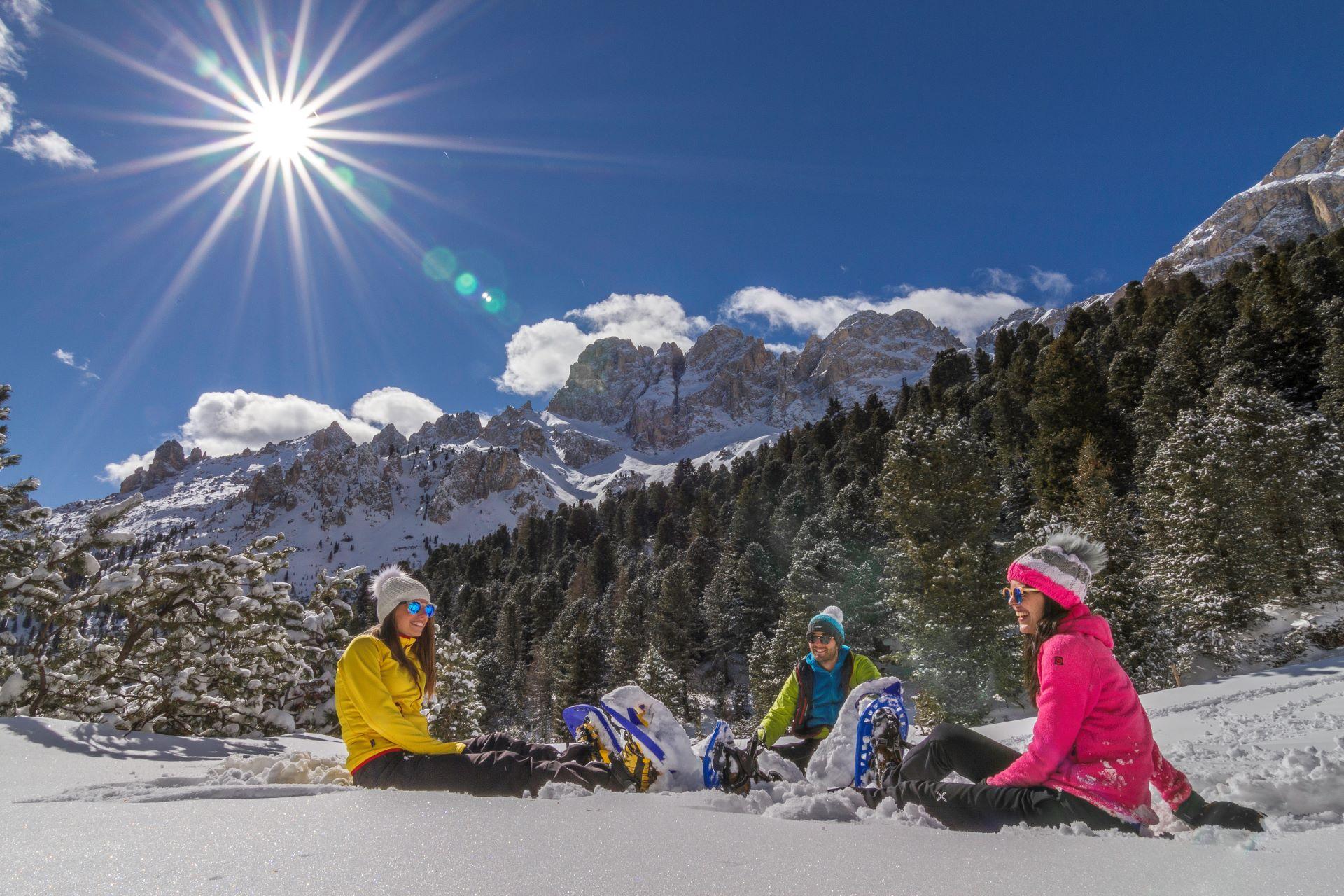 In the Gardeccia basin, where everyone lingers for quite some time enchanted by the extraordinary views of the Catinaccio group and the deep blue sky that leaves you speechless, you can decide whether to stop for a nice lunch enjoying one of the typical Tyrolean dishes in one of the 3 nearby refuges (the Gardeccia refuge, the Enrosadira hut and the Stella Alpina refuge) or to return to your skiers for lunch at the Ciampedìe.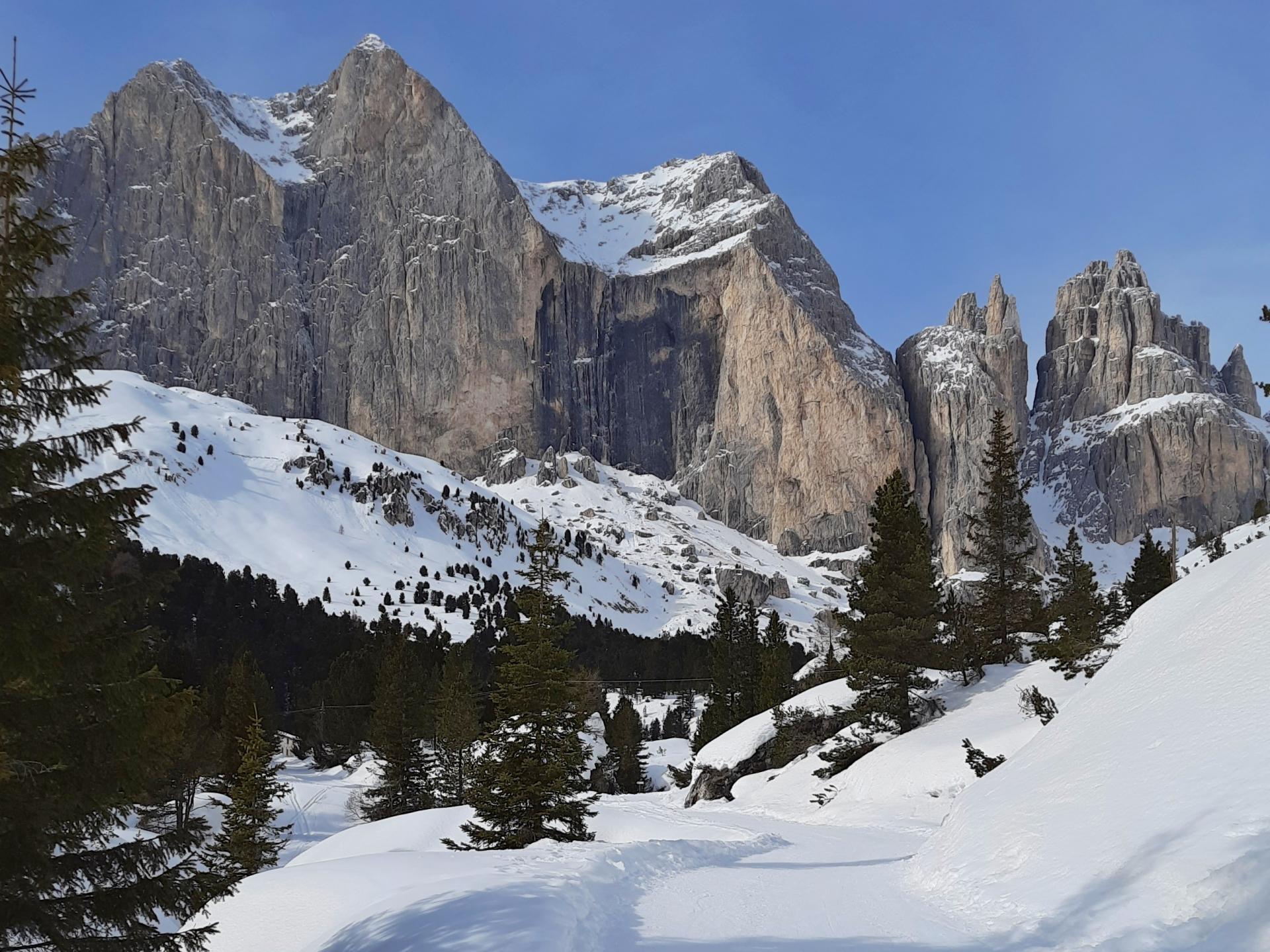 Be careful, on the way back do not take path n. 540, the classic summer route connecting Gardeccia with Ciampedìe: in winter it is crossed by ski slopes, so it is forbidden to hikers (you won't be able to miss it because you will see the path clearly interrupted and the sign with the direction to follow in winter).
To get to the Ciampedìe, walk along the same path to Pian Pecei and now take the third chair lift you have not yet used, chair lift number 215, which takes you directly to the picturesque Ciampedìe plateau. Now sip a hot tea on a sun lounger at one of the mountain huts and admire the imposing peaks of the Catinaccio massif while comfortably waiting for your beloved skiers to have lunch together.
For the return to the valley, you descend with the three chairlifts you know by now, while your companions on skis come down directly with the return slope to Pera di Fassa.
Tip: go up to Ciampedìe even if you do not intend to walk to Gardeccia. It is a magic place that cannot be missed in your winter experiences as a non-skier in Val di Fassa. You can enjoy indescribable views, take wonderful photos, taste typical dishes, pamper yourself in the beautiful alpine sun or have fun in the snow with your children in the Kinderpark Ciampedìe.
2. Ski area Buffaure/Ciampac for skiers + Val San Nicolò/Val Monzoni for non-skiers
In Pozza di Fassa, you can start on foot from the base of the Buffaure cable car that your friends or family will use to ski on the slopes of Buffaure-Ciampac (or just afterwards, from the car park along the ski slope between the cable car and camping Vidor) to discover the wonderful sunny valley Val San Nicolò and walk in the crisp snow, first in the forest, to the right of the ski slope, and then in the beautiful open glade, for about 2 hours to Baita Ciampiè mountain hut, open in winter, or, if you wish, to Baita alle Cascate (in which case bring a sandwich because this hut is closed in winter).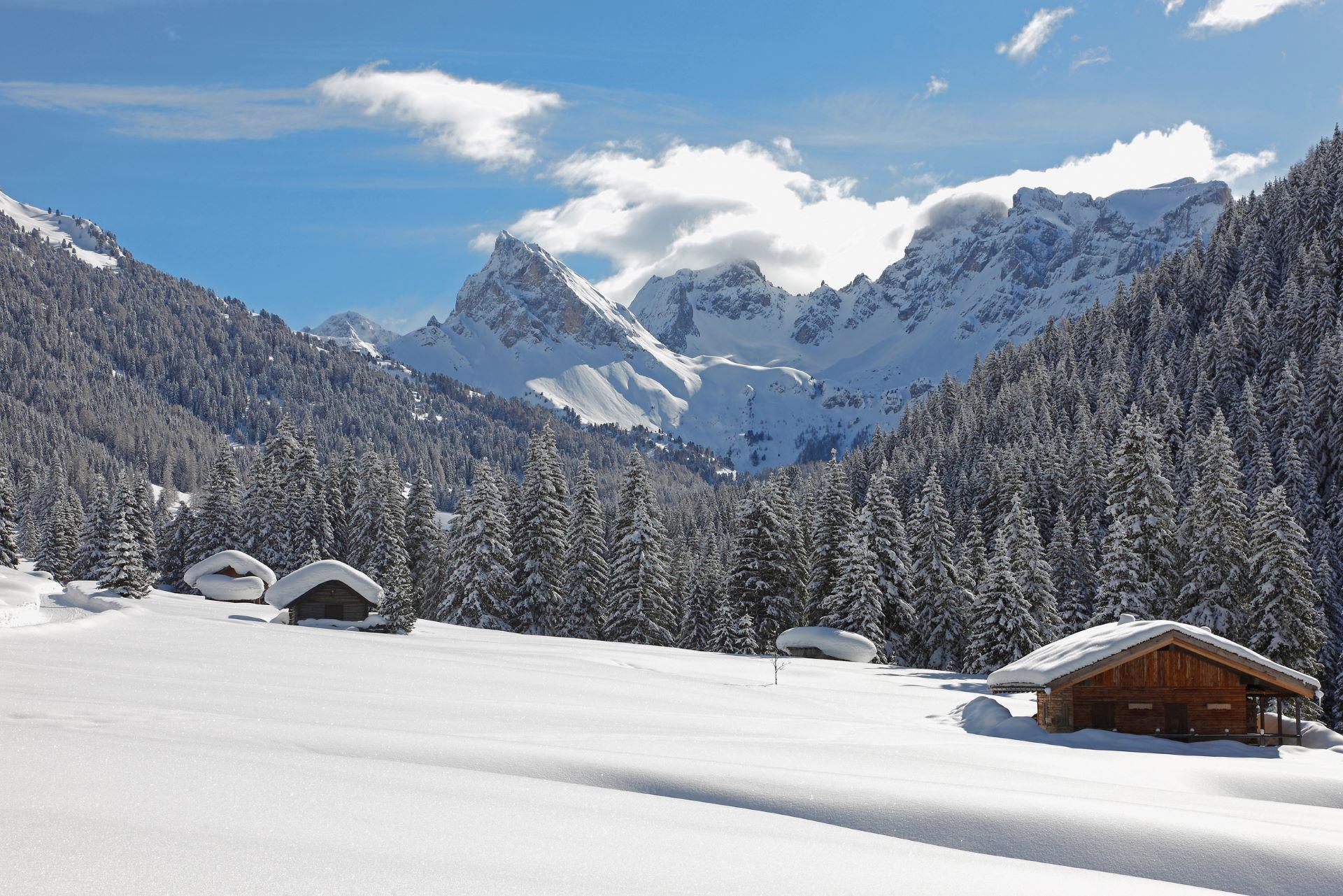 The charm and magic of this side valley with its small snow-covered huts, winter torrents and incredible views of Col Ombert, the Marmolada group and the Dolomites of San Pellegrino Pass will leave you breathless. This is why Val San Nicolò is so popular in winter with both locals and Dolomite lovers from all over Italy and beyond.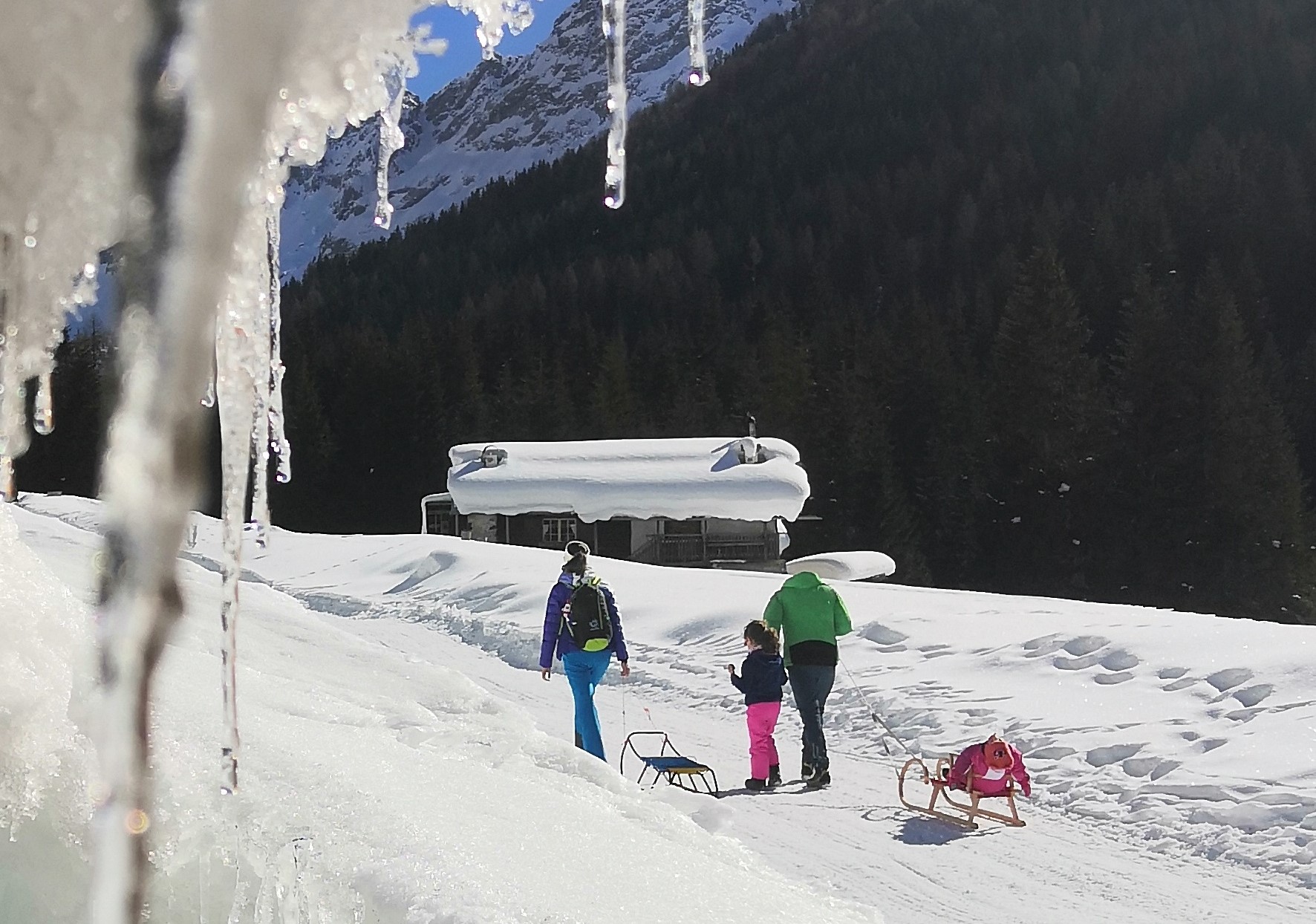 The road with a slight initial ascent with no particular difficulty is perfectly groomed (so snowshoes are not needed) and is ideal for taking a nice long winter walk in Val di Fassa with the dog, with children used to walking (for a gradual and non-demanding elevation gain of about 300 meters) and having fun with the little ones in sleds, playing with lots of snow once you reach Val San Nicolò.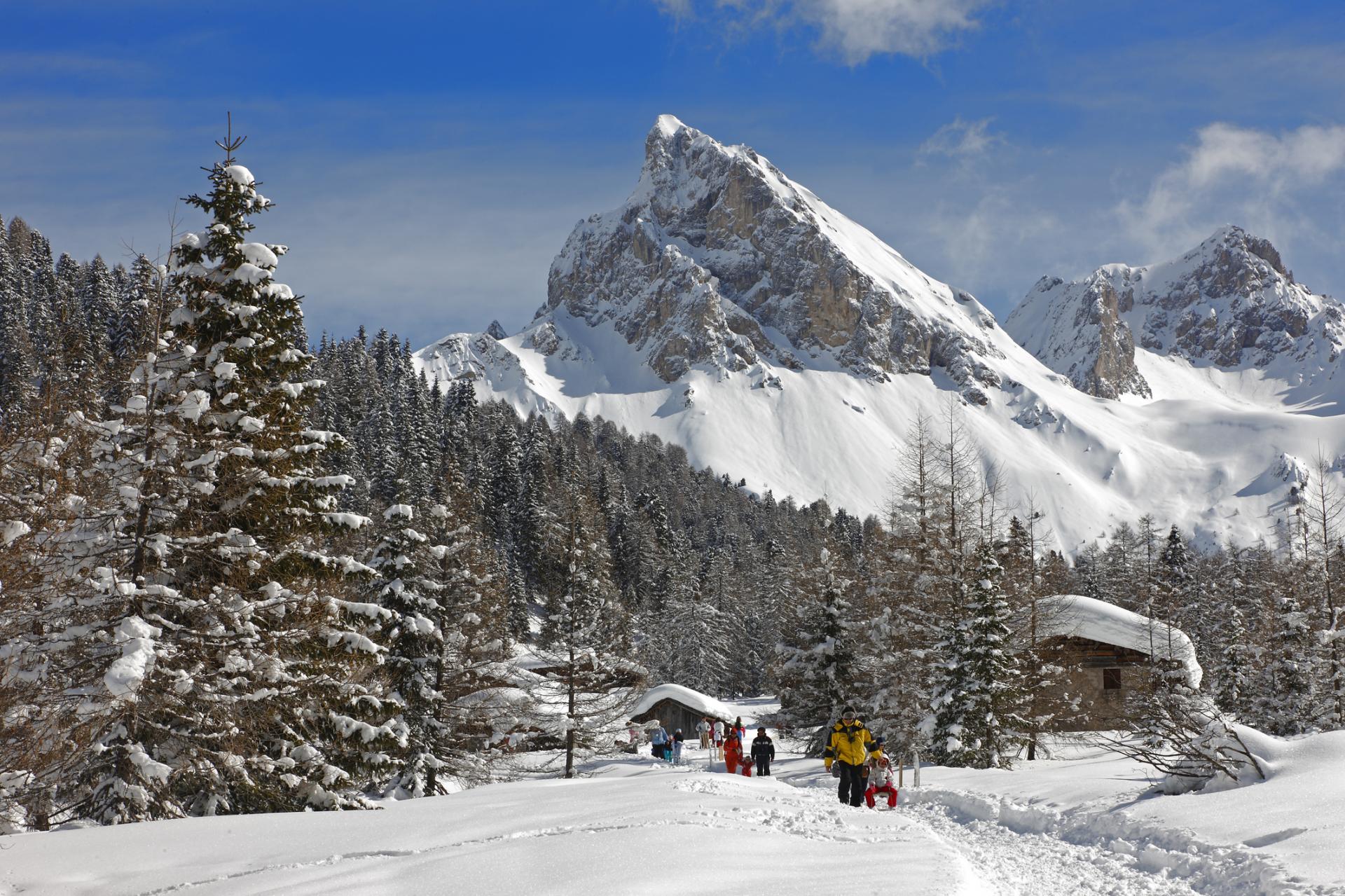 A valid alternative is to take the road to Val Monzoni at Malga al Crocifisso hut, instead of following the signs to Val San Nicolò, to take a wonderful winter hike in Val di Fassa on path number 603, which in about 3 km leads to Malga Monzoni where you can taste typical dishes and buy local dairy products. Unlike Val San Nicolò, this area is less frequented, so you can take advantage of a unique opportunity to enjoy the pristine terrain, listen to the silence of the mountains, and connect with the nature of the Dolomites. This trail is shady in winter, so dress warmly.
Returning to the village, even though it is on the same road, will feel like a new place because you will be accompanied by spectacular peaks of the Catinaccio mountain group that were previously behind you.
At the end point of your walking along the slope you can then find your dear skiers. For example, you can agree to meet at Malga al Crocifisso (beautiful Buffaure-Panorama ski slope passes right by) to have lunch together. Another idea is to celebrate with a nice Italian-style aperitif this wonderful day lived to the full and exchange experiences and adventures in the new elegant aprés-ski restaurant Dolomites Geyser where skiers arrive either by the black Volcano slope or the simple Panorama slope while non-skiers can reach the restaurant walking up the slope 50 metres from the car park.