29 May 2022
Where to see and photograph marmots in Val di Fassa
Reading time 4:34 Minutes
There is no doubt that watching the mountain mascots during your holiday in our apartments in village of Pera di Fassa is priceless. With a bit of luck and our tips for spotting marmots you will be able to get close to these marvellous little animals and take some wonderful photos up close.
Hi! I am that cute marmot that you, adult or child, would like so much to meet while exploring my Dolomites. I am a curious but very shy animal and that is why I hide in my burrow when you make too much noise. If you make your hiking very early in the morning, it will be much easier to find me.
I will be happy to see you, but remember that you are a guest in my homeland and I am a protected animal. Please don't feed me if you love me, otherwise I will get fat and won't know how to get food on my own.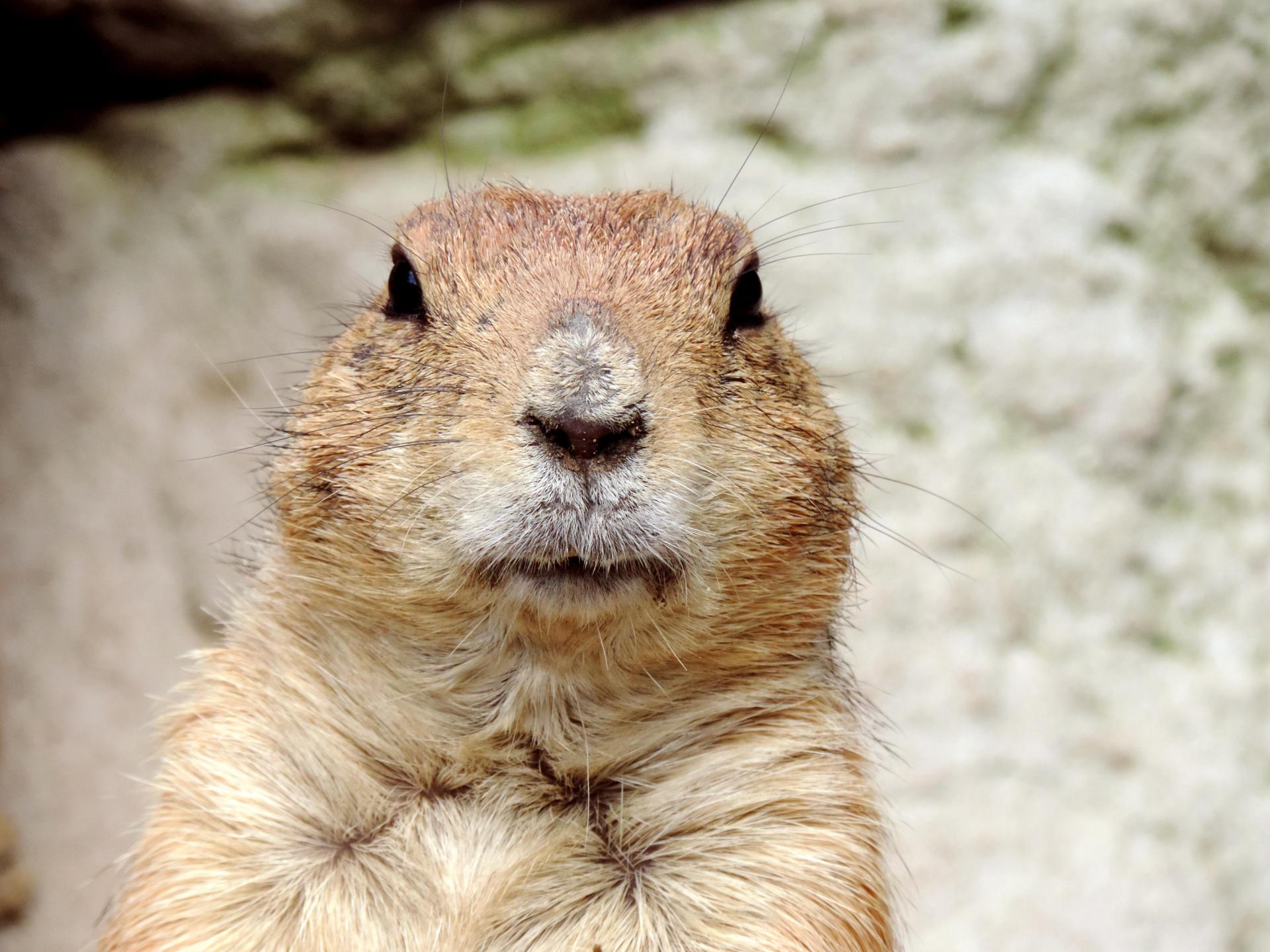 Finding marmots' burrows and making friends with these funny little animals during trekking and hiking in Val di Fassa is a wonderful experience, especially for children!
How to find marmots in Val di Fassa?
Mountain sentinels love to cuddle up in the sun but quickly take shelter in their huts at the first sensation of danger.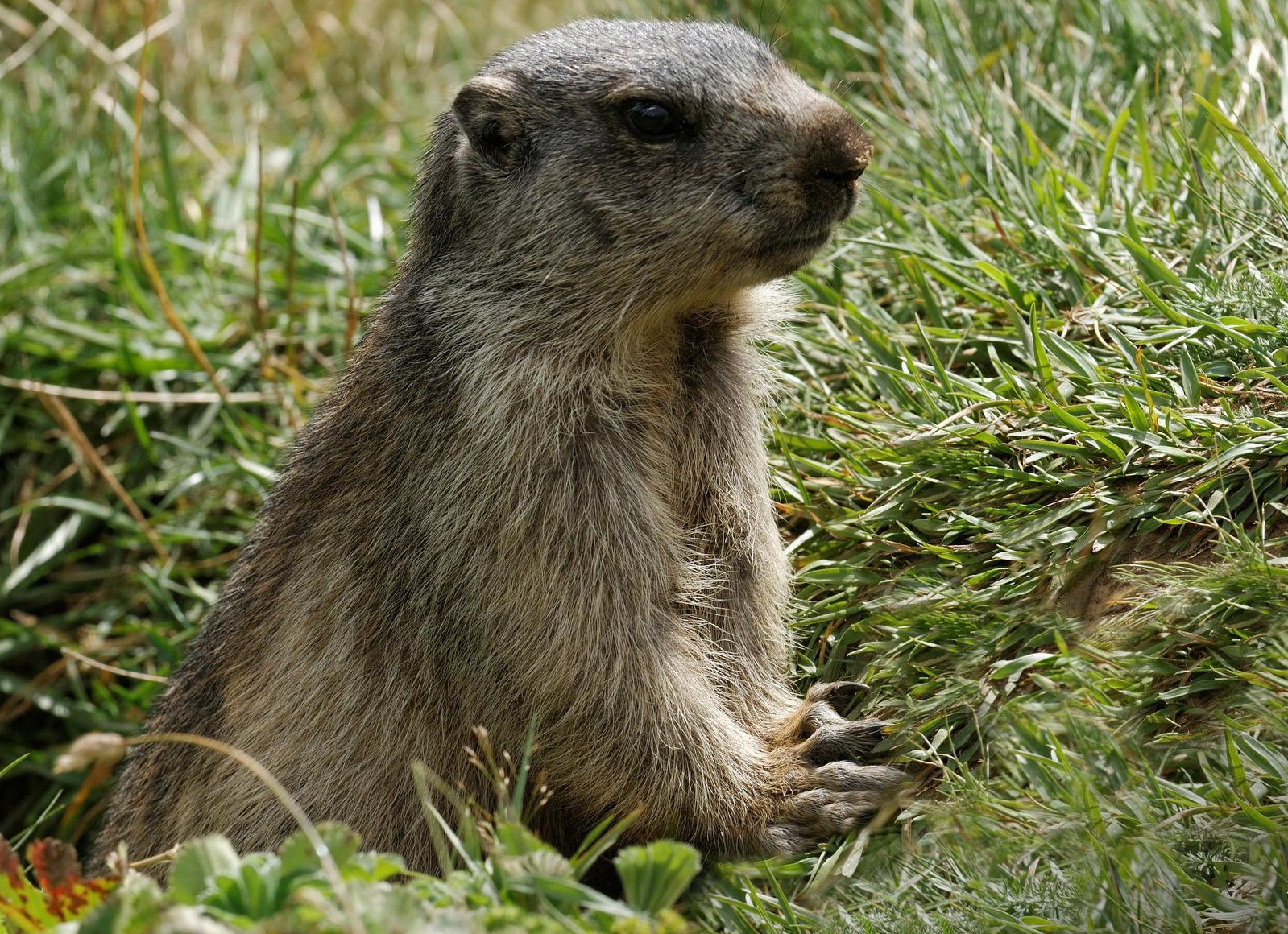 Seeing them from afar standing on their hind legs guarding you during your hiking and trekking in Val di Fassa is really easy, but taking a picture of them up close is ranother matter if your children are running or your dog is barking.
We therefore advise you to walk quietly, slowly and not to make any noise or sudden movements. It is also useful to set off on your marmot discovery hike early in the morning to prevent other hikers frightening these little animals. Bear in mind that very often marmots, frightened by the presence of a dog, will not come out of their burrows for a long time.
Where to meet marmots in the Val di Fassa?
These cute little beasts live at altitudes from 1500 metres upwards and prefer areas with few trees, large meadows and rocky ground. If, when walking on grassy slope paths or along alpine pastures, you find deep holes in the ground (these are the entrances to the burrows), it means that you are already in the world of marmots: so you can catch a glimpse of them, photograph their sweet little faces, admire them in their natural habitat accompanied by their characteristic whistle.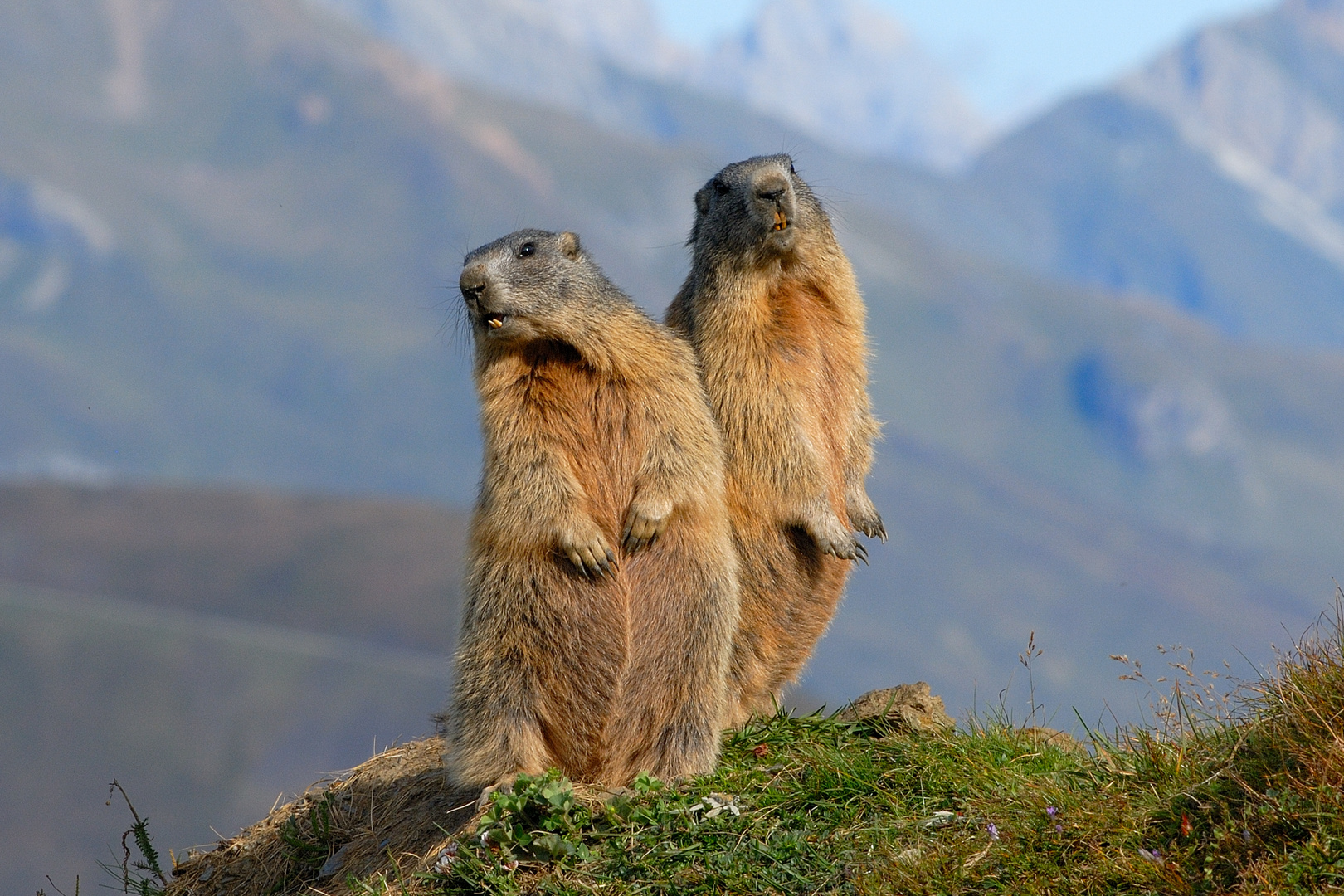 They start showing up in the mountains of the Fassa Valley when the snow is gone: you will be able to meet them and take wonderful photos of them during the summer season from the end of May to September. In October, now chubby from facing a long winter, marmots find themselves in their very deep burrows to prepare for hibernation.rgo.Seeing marmots in Val di Fassa is quite easy and you don't have to walk far to spot them. We suggest you to plan excursions through the clearings, for example, take pleasant hikes from Col Rodella along the scenic Friedrich August trail number 557 to the Sasso Piatto refuge, or on the green pastures at Passo San Pellegrino exploring the wonderful Fuciade area (we also recommend trekking to Fuciade for families with small children, path number 607) or in Val Duron or Val San Nicolò from the Baita alle Cascate hut to Passo San Nicolò. The hiking along the famous Viel del Pan trail, number 601, at the foot of the Marmolada is also excellent for encountering marmots in Val di Fassa.
What if the marmots are being difficult? Right at the rifugio Fuciade hut you will always find the two marmots in love waiting for you and your children to take a photo together.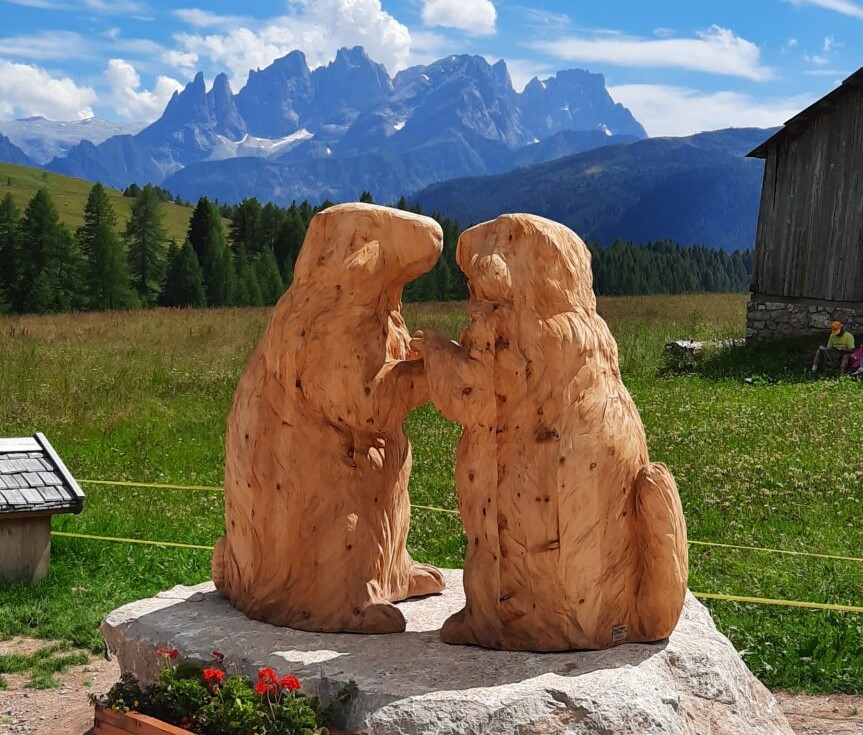 The waterfalls at Passo Sella is the best place in Val di Fassa to see and photograph marmots up close!
This is a spectacular place for views and is also the top place to have a great experience discovering marmots. The marmot trail is family-friendly, easily accessible even with young children, and close encounters with marmots who are not afraid of humans are assured (if you follow the advice we have given)!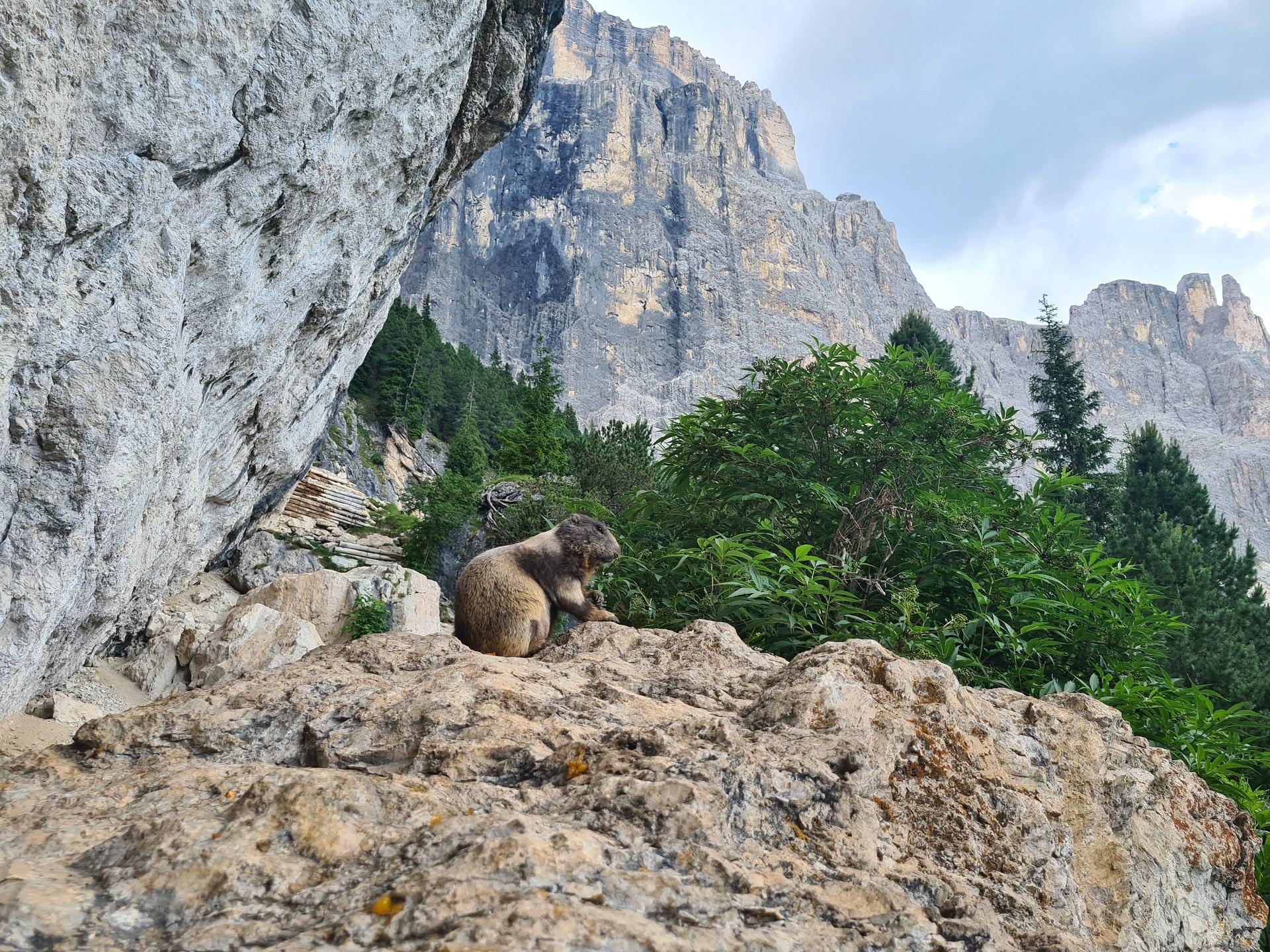 We went looking for marmots at Passo Sella in the late afternoon and found them without any difficulty, in fact they seemed to be waiting for us!Arriving at Passo Sella by car, you can park near or shortly after the Pian Schiavaneis restaurant. From the restaurant car park, you can clearly see the sign pointing in the direction of the marmots. Walk along the path through the forest, always following the signs for the waterfalls for about fifteen minutes.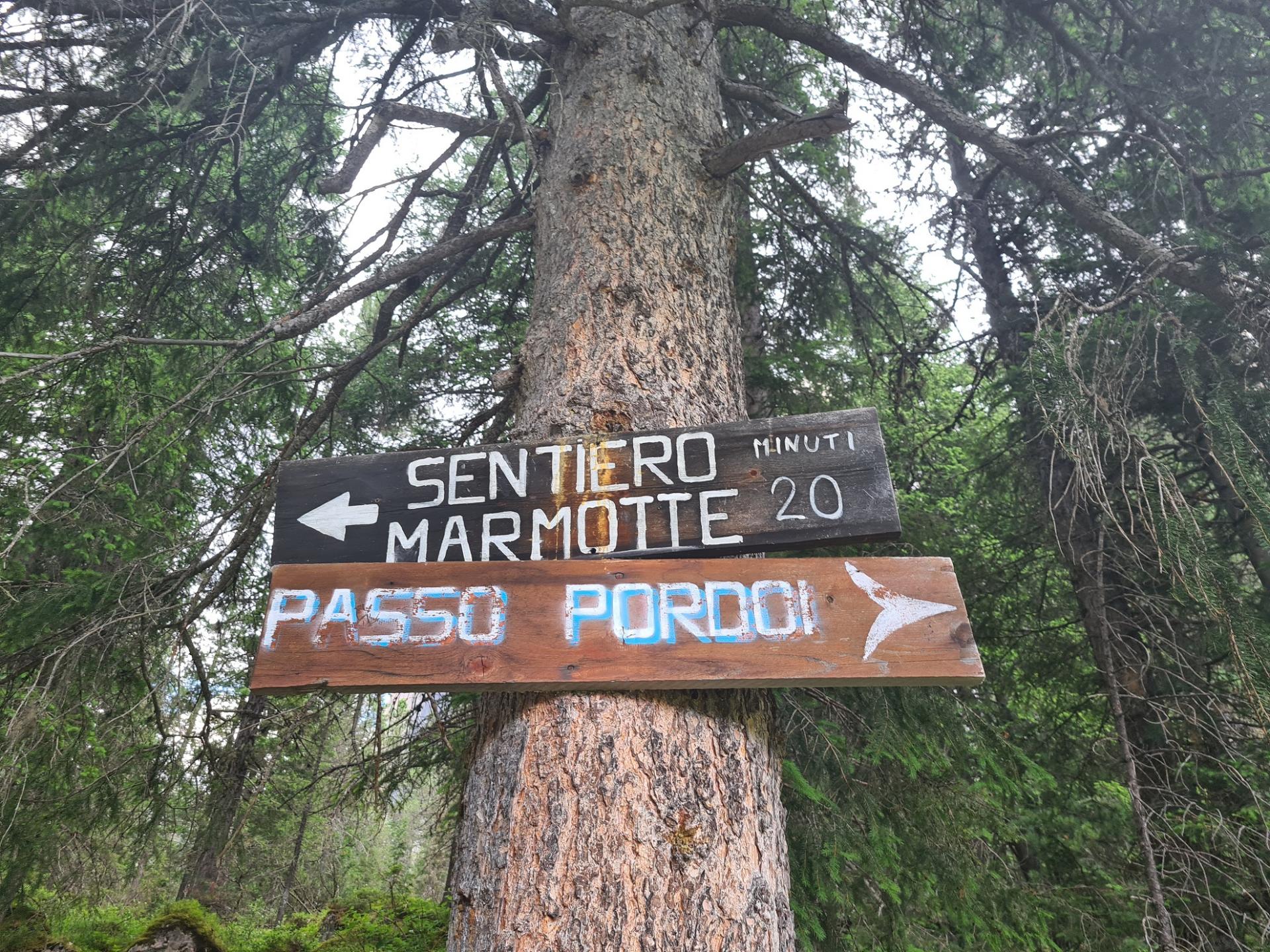 You can't take a wrong path because you will certainly meet people on the way back who, with their 'yes yes, they are there' encouragement, will anticipate the joy of spotting the marmots very closely.
On your left you will notice the bed of the dried-up Rio Antermont river, you have to cross it to get closer to the falls when you start to hear its sound. There, now, exactly to the left of the beautiful waterfall, you are in a real village of marmots living with their families under the giant boulder famous among climbers!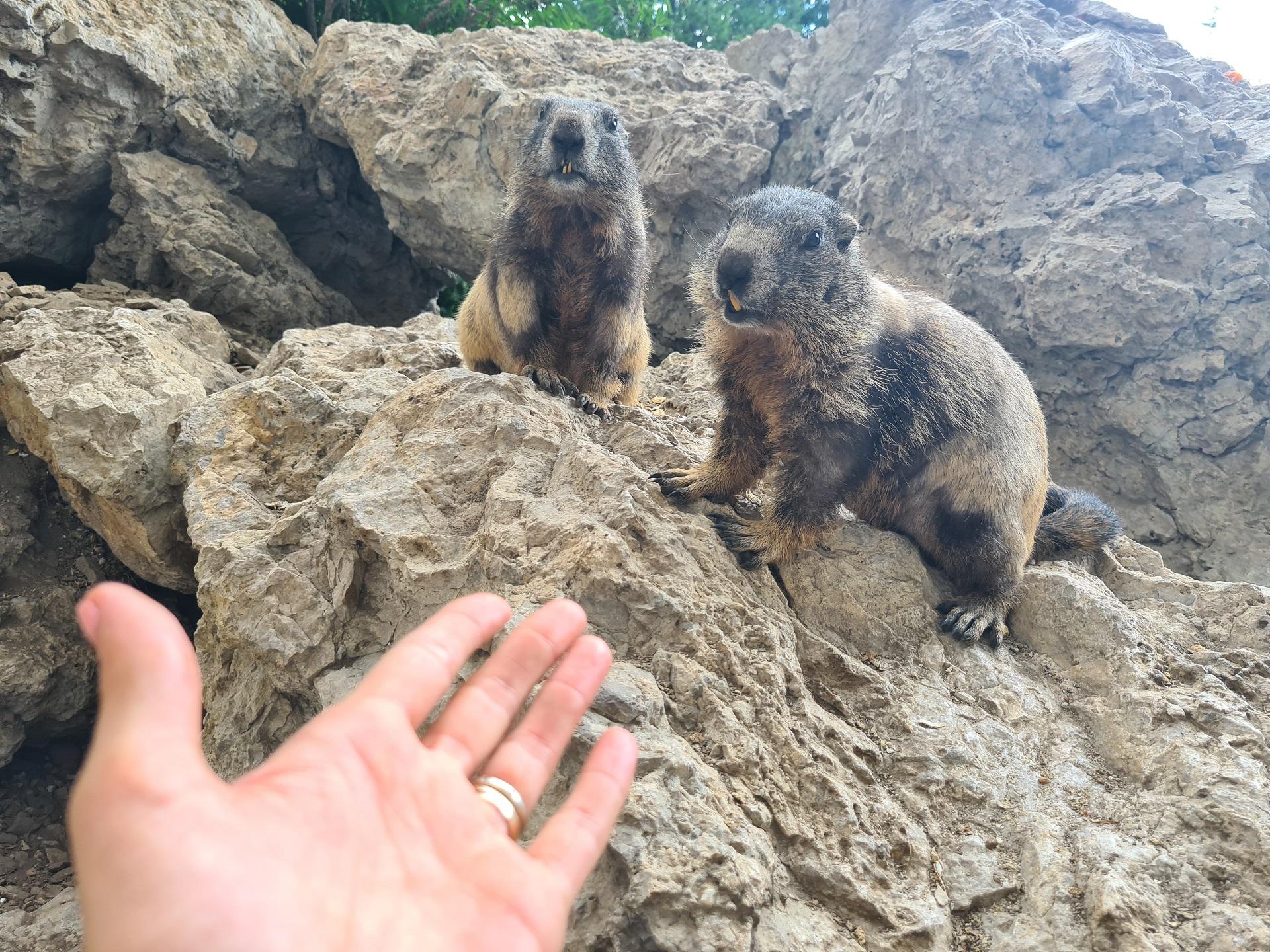 You can see them popping up all over the place, get to know them and take photographs. It will be very difficult to leave as they are so sweet...
Have fun!
Ask for information