10 February 2022
Ski mountaineering in Val di Fassa: itineraries and routes to try out
Reading time 5:10 Minutes
What comes to mind when you think of a skiing week in Val di Fassa in winter? No doubt you picture yourself on the beautiful, perfectly groomed and sunny slopes of the Dolomites. How about venturing into an unusual but exciting activity to try something new and experience the winter mountains in a different way during your holiday in Pozza di Fassa?
Ski mountaineering consists of traversing off-piste snowy routes on skis without the use of ski lifts. You will like the skialp in Trentino if you are an active person who loves sport, wild nature, freedom and challenge. There are countless ski mountaineering routes in Val di Fassa with priceless views of the Dolomites suitable for both beginners and experts with good physical and technical preparation for the descent.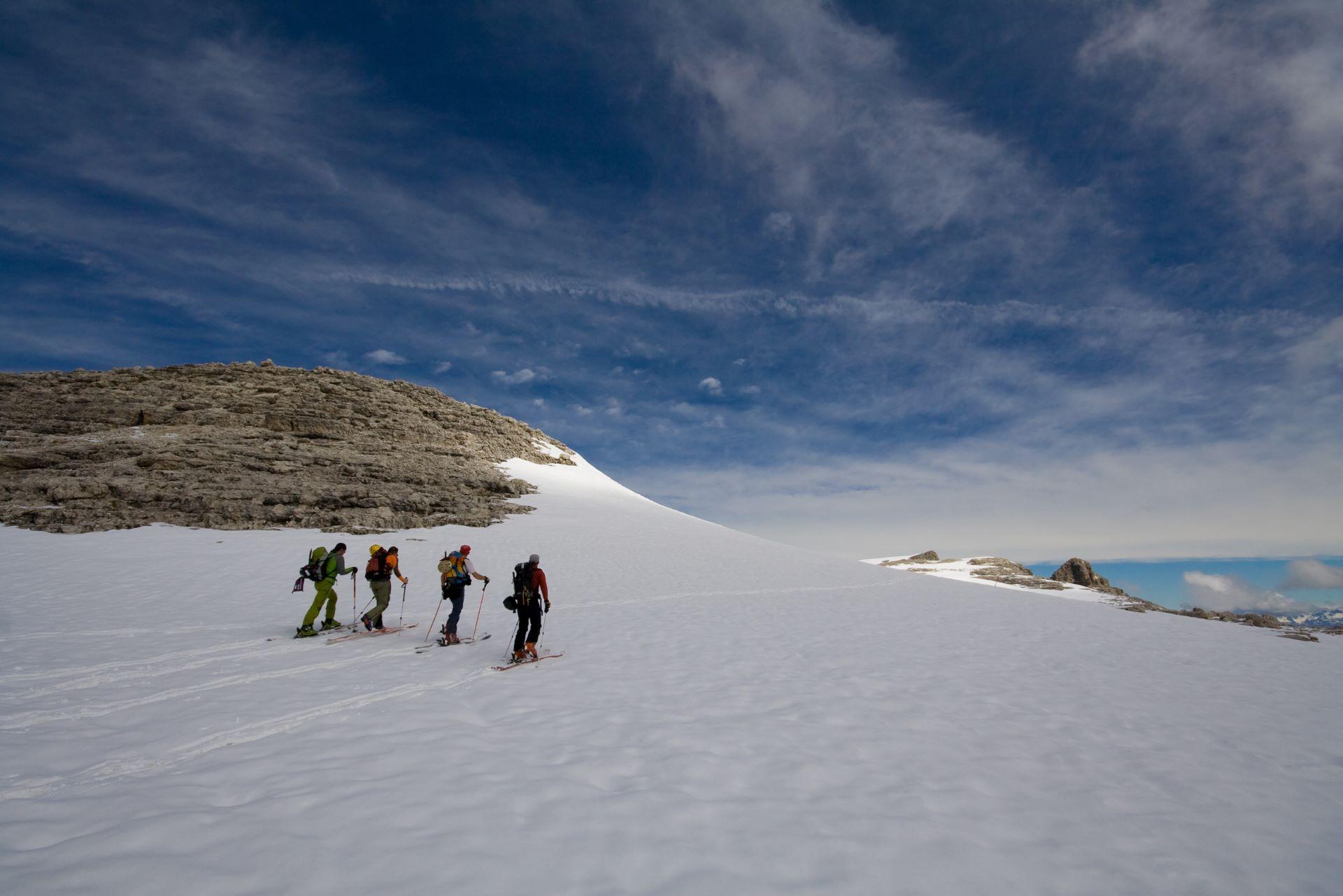 I started practising ski mountaineering years ago to alternate with running on the snow in Val di Fassa, and I fell in love with this discipline that I consider a perfect combination of challenging Nordic walking and alpine skiing. I love that moment when I glue my sealskinz to my skis to go up the mountain under my own steam and then have fun on the descent, drawing tracks in the powder snow and enjoying the fascinating winter landscapes of Val di Fassa.
Fun fact: during the 2020-2021 season, when all the ski lifts in Italy were closed for the entire winter, there was a real boom for ski mountaineering in Val di Fassa, so much so that it was impossible to find equipment for sale or hire.
Ski mountaineering in Val di Fassa is not only about conquering peaks through silent valleys, it is also the only way to be able to access to exclusive places in winter that are normally only accessible in summer, to experience intense emotions and to enjoy intimate moments with unspoilt nature.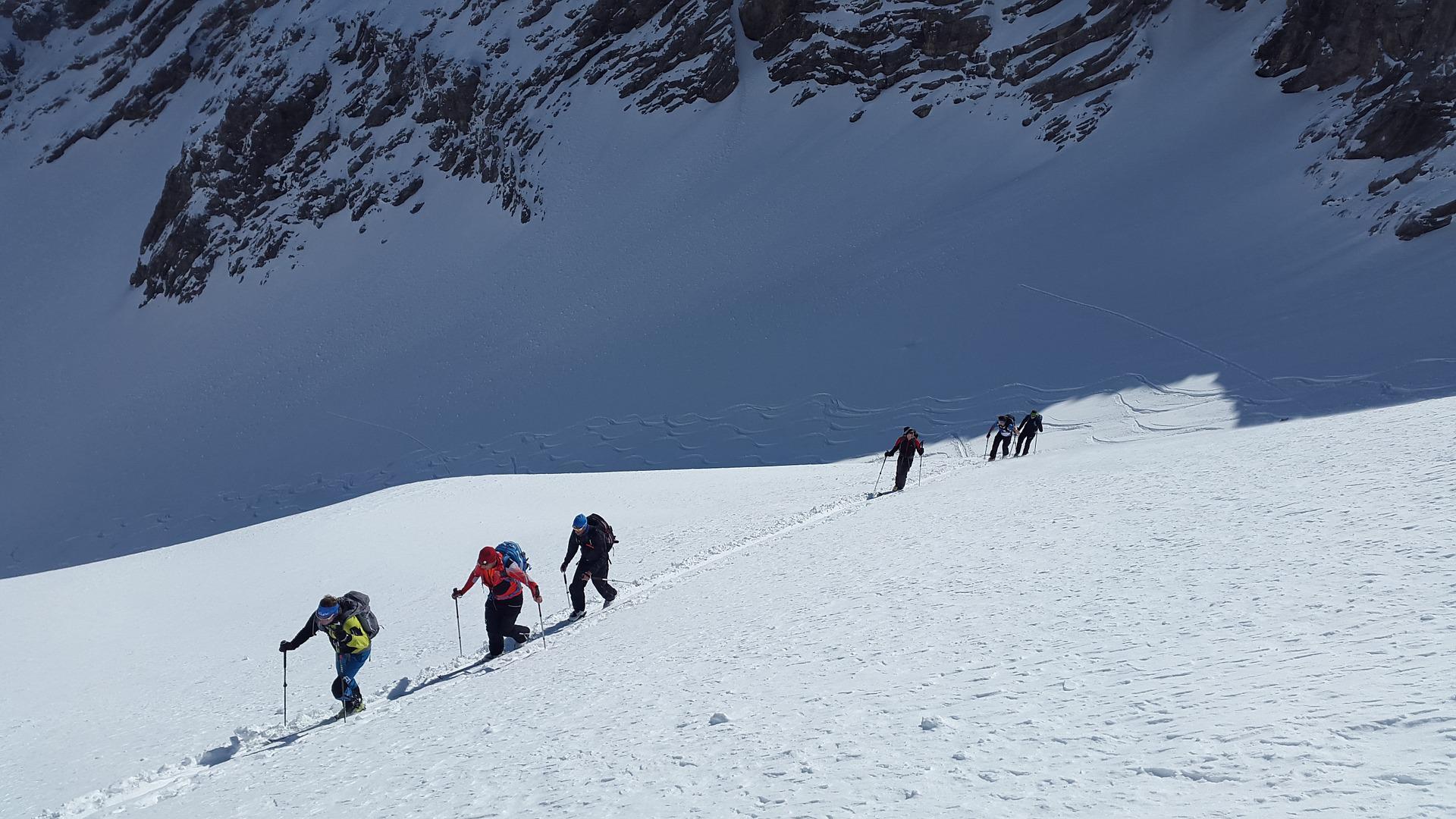 Very Important! As with all activities in the mountains, I recommend caution and suitable equipment for what you want to tackle. Before setting off, always inform yourself about the condition of the route at the mountain guides' offices and check the snow report. You must be sufficiently physically prepared to face the fatigue of your first ski mountaineering ascent in Val di Fassa and, of course, you must know how to ski in order to descend unbeaten tracks. The best skialp outings in Val di Fassa involve off-piste descents, so I recommend it only to expert skiers with good preparation and knowledge of the technique.
Are you still hesitant? The best advice I can give you is to entrust yourself to one of Val di Fassa alpine guides who, in addition to guiding you on the most evocative routes, will provide you with useful information on ski-mountaineering technique and will make you appreciate even more this enthralling sport and wonderful area of the Val di Fassa winter.
Remember to dress in technical clothing in layers as in hiking, and to have a spare T-shirt and warm jacket in your rucksack to face the descent once you reach the summit. Ask at the numerous skirent in Val di Fassa for the right ski-mountaineering equipment.
The best way to end your day of ski mountaineering in Val di Fassa is to go to the QC Terme Dolomiti, famous in the whole Italy spa centre near our apartments in Pozza di Fassa (we will give you a 10% discount on the entrance ticket to spa center) to relax your muscles and recover your energy after your fantastic ski mountaineering experience in Val di Fassa.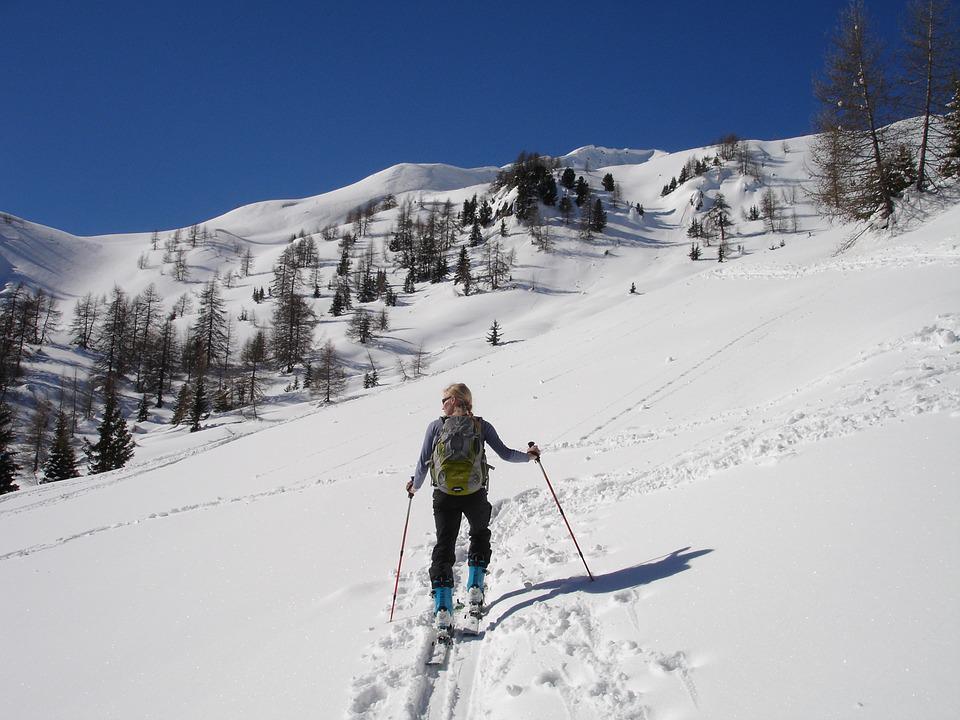 Mine is not intended to be a guide for experts, I just want to suggest some routes for ski-mountaineering in Pozza di Fassa to spend a few hours on skis amidst the winter panoramas of the Alps in complete harmony with the nature of the Dolomites.
Enjoy your excursion!
3 medium-easy ski mountaineering routes in Val di Fassa
I suggest you these ski mountaineering itineraries in Pozza di Fassa near our apartments Residence La Roggia. You can approach this sport in total safety without the risk of avalanches.
The best ski mountaineering route for beginners in Pozza di Fassa
Pera – Muncion – Gardeccia
Height difference: 400-700 mt
A great classic skialp route to start with arrives in the heart of the Catinaccio with breathtaking views under the mountains Torri del Vajolet. Departure by car from Pera di Fassa in the direction of village Muncion, after the village there will be a parking place in the place named Soal. The ascent involves a difference in altitude of 400 metres, normally on a beaten track up to the Gardeccia refuge (1.5 hours). Those who wish to go further can continue to the Vajolet refuge with another hour's ascent for another 300 metres of altitude difference. On the last stretch, pay attention to possible icy sections. After a restorative stop, the return is planned along the same route as the outward journey.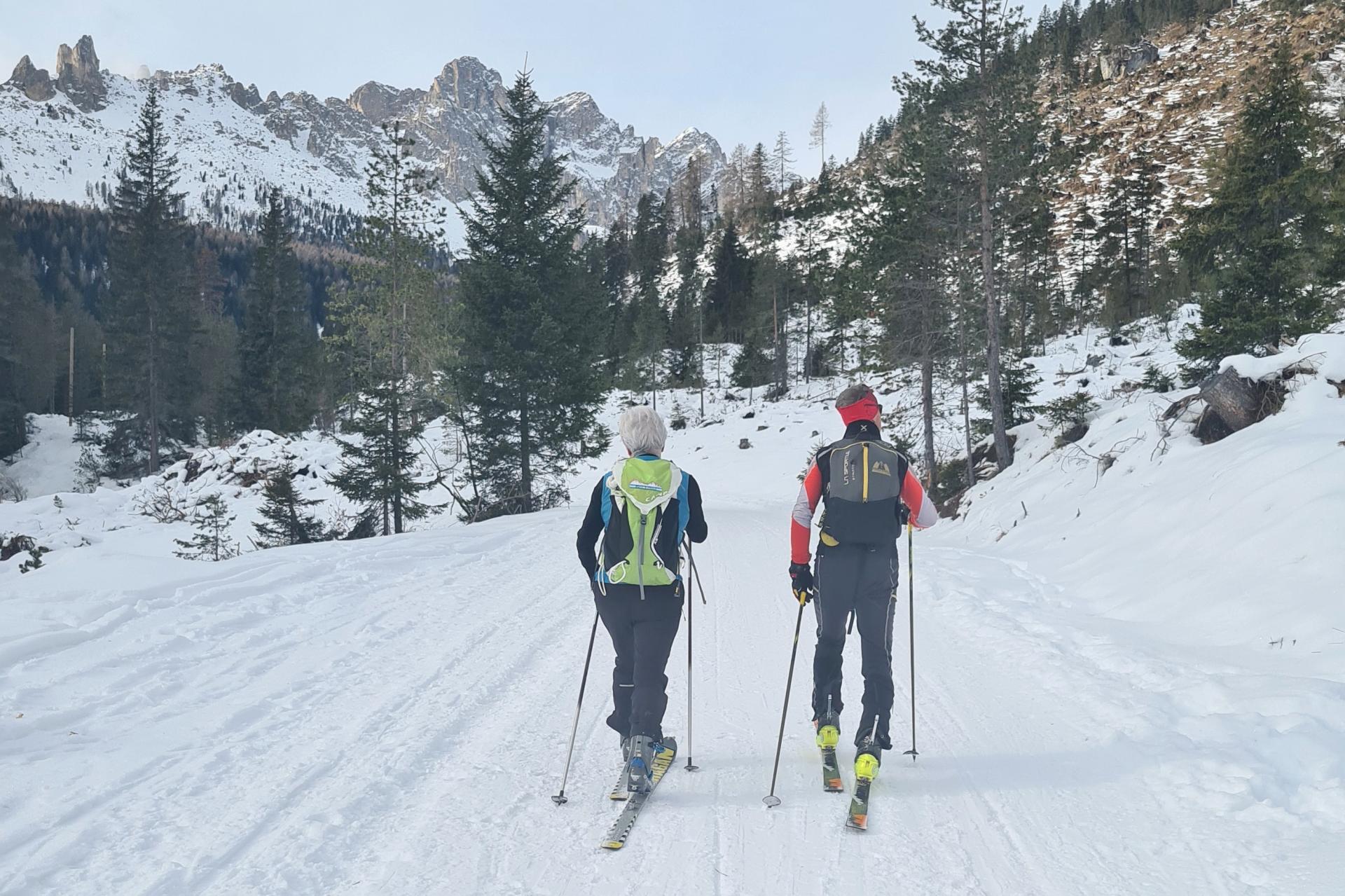 Ski mountaineering itinerary in Pozza di Fassa of medium difficulty to the Vallaccia refuge
Pozza di Fassa – Val Monzoni – Rifugio Vallaccia
Height difference: 850 mt
The starting point is near the Soldanella restaurant (convenient free parking). Easy ascent to Malga al Crocifisso and then turn right into Val Monzoni. In about 1.5 hours you will reach Malga Monzoni refuge. From here, the climb becomes decidedly more demanding til Vallaccia refuge with spectacular views. Total ascent 2.5 - 3 hours with a difference in altitude of 850 metres. The descent is planned either by returning along the same track or by going parallel in the surrounding woods.
Skialp route of medium difficulty in Fassa Valley
for experienced skiers
Pozza di Fassa – Val Monzoni – Forcella Pief – Val San Nicolò
Height difference: 900 mt
I suggest this route only to those who have a good command of downhill skis. The start is near the Soldanella restaraunt (convenient free parking). Easy ascent to Malga al Crocifisso and then turn right into Val Monzoni. Before the hut (about 1 hour), take the path to the left that leads to Forcella Pief and then to Sella de Palacia. Once the skins have been removed, the steep descent to Val San Nicolò begins, leading back to the starting area. Excursion of about 4 hours with 900 metres of positive altitude difference.
Ask for information